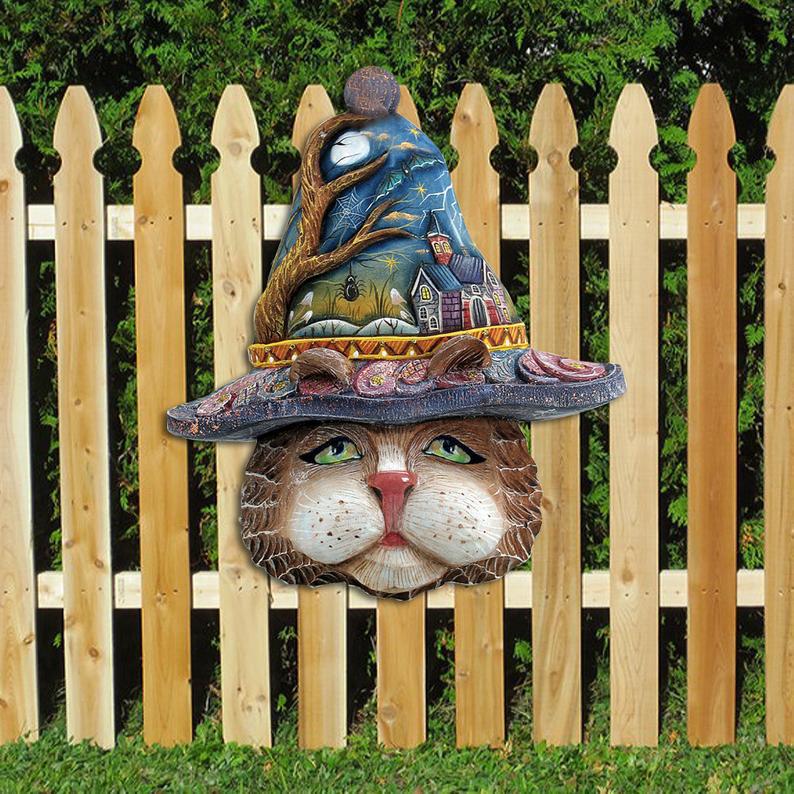 Halloween funny cat face wooden listing decoration house decoration
-Unique boutique decoration-original design
»Size is 15.35*10.63 inches, round
»Background color: yellow | 1/2 inch rough cut overlapping plywood
»Distressed | 1/4 inch birch plywood-3D laser cutting
»The wire rack on the back of the part | weighs approximately 4.5 pounds
»Text\Specially designed for laser cutting birch plywood, increase 3D size!
This sign is perfect for your front door, mantelpiece, gallery wall, leaning on a shelf, entrance... or anywhere in your home!
Make a great gift!
All items are hand-made with rough-cut pine and birch plywood texture. Distress, texture, notches, knots, cracks, etc. will vary with the logo... and make each piece truly unique. We feel that these markings add a rustic, distressed look to our favorite products.
Please note: Our logo is recommended to be used indoors or displayed on a covered front door or porch
All signs are>Handmade E<Order
<<Our current production time for all orders is 7-10 working days>>
--Working days are Monday to Friday--
We will make every effort to ship your order as soon as possible.
-These items are made of the highest quality materials. We use rough-cut lapped plywood as our logo. The text is laser cut plywood.
-Apply high-quality exterior wall latex paint (also called house paint), and then sandpaper to create a rustic, distressed appearance. Will not fade in the sun.
-Use external grade wood glue and nails
Assembly-In order to reduce costs and environmental awareness, we will not apply sealant on this logo. If needed, you can apply polyurethane at any time.
-This sign is intended to be displayed indoors, at the front door or *covered* porch.
-Our items are carefully hand-made and durable!
All products are handmade, so there may be slight differences between the pictures and the products you received. There may also be subtle defects and inconsistencies in the wood, which are only part of the charm of buying handmade products. We strive to bring you high-quality, well-made products.