Enter the next great generation product of GALAXYALFA - Projector Lite - a futuristic device that commits to design the simplest appearance.
Projector Lite
looks sleeker, lighter weight, more portable in shape, and more affordable price compared with the characteristic spaceship shape of One Projector. Bring the night sky indoors, and you'll be immersed in an alternate universe of stars, nebulae, and crashing ocean waves.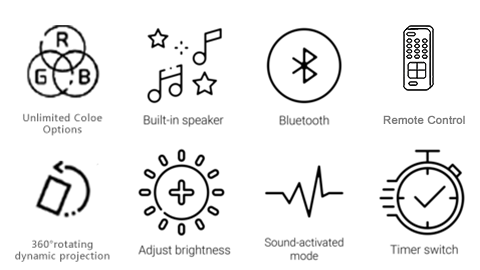 REMOTE CONTROL
Our remote control allows you to take full control of the GALAXYALFA Projector Lite. Unlimited color options with an RGBW dial, brightness options, ability to control the rotation speed, set timers and so much more.
MULTI-COLOR
4 single colors of red, green, blue, and white, which can be combined at will to match the color you like. Single-/ Multi-color cycle modes engulf all rooms!
STAR SPARKLE MODE
Innovative two different star sparkle modes. Always-on Mode, and Breathing Mode. 
BUILT-IN BLUETOOTH SPEAKER
Listen to your choice of music with the built-in Bluetooth Speaker while immersing yourself in a sea of drifting stars and clouds.
SOUND ACTIVATION MODE
The sound control mode enables the lights to sync with the music and switch colors as sounds change, adding fun to every party!
TIMER SWITCH

Support 1H/2H timer and auto turn off. Its resume function shows the lights setting before, allowing to sleep with familiar lights.
What's in the box?
GALAXYALFA

 

Projector Lite

Micro USB Charging Cable

Instruction Manual